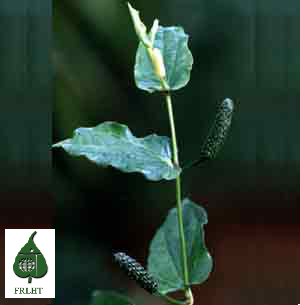 Piper longum L.
PIPERACEAE
Vernacular names:
Hindi - Pipli
Kannada - fiippali
Malayalam - Thippali
Marathi - Pimpli
Sanskrit - Pippali, Kana
Tamil - Thippili
Telugu - Pippallu
Threat status:
Not Evaluated - KA
Lower Risk near threatened - KL
Endangered (A 1 c,d) - TN
Habit: Sub-scandent herb
Habitat: Moist deciduous to evergreen forests
Altitude: 500 - 1500 m
Distribution: Global: Indo-Malaysia. National: Recorded in the moist tropical zones of eastern Himalaya and other hilly regions of several states. Believed to be a native of northeastern India. Cultivated in several places. Regional: Common in the Western Ghats in Kerala and rare in Tamil Nadu. Not reported from Karnataka.
Description: A slender sub-scandent herb, branchlets erect, straggling or sometimes climbing, hairless, with swollen nodes and those of creeping branches with roots at lower nodes. Leaves alternate, variable in shape, usually egg-shaped-heart-shaped, 7-15 x 4-6 cm, base heart-shaped and unequal, apex acute to acuminate, margin entire, hairless, lower leaves with long stalks and upper ones without stalk; lateral nerves 5-7 arising from the base. Male spikes erect, 2-7 cm long, greenish yellow, fleshy, cylindrical, with minute male flowers. Female spikes erect, 1-3 cm long, yellow. Fruiting spikes cylindrically oblong, about 4 x 1 cm. Berries globose, about 2 mm across, partly sunken in the rachis, compactly arranged, red turning black when ripe.
Phenology: Flowering & Fruiting: September to November; March to June
Medicinal uses: Roots and fruiting spikes are used in treating diarrhoea, indigestion, jaundice, urticaria, abdominal disorders, hoarseness of voice, asthma, hiccough, cough, piles, malarial fever, flatulence, vomiting, thirst, oedema, earache, wheezing, chest conjestion, throat infections, worms and sinusitis. This is one of the ingredients in the Siddha medicine 'trikadugu'. Also considered a rejuvenating plant.
Trade information: Local, regional and global. Roots and rhizomes are sold under the trade name Pipp/amoo/. Stem pieces are also found as an adulterant. Mature but unripe fruiting spikes are also used as a drug and traded under the name Bara pips/, Chota pipa/ or Long pepper. Priced at Rs.150 to 180/Kg. (Market studies, 1999-2000).
Mode of propagation: By seeds, stem cuttings and tillers
Special characters: The habit of this species is unique. The only Piper species which does not show typical climbing habit. Erect fruiting spikes are another important character for easy identification.